Jason Eppink is a small time instigator, aggregator, maker & doer, and a rabble rouser.  You've seen his work before – in blogs, in newspapers and in your friends twitter feeds. His work has taken place on our streets, subways and public places and it makes people laugh, ponder and interact.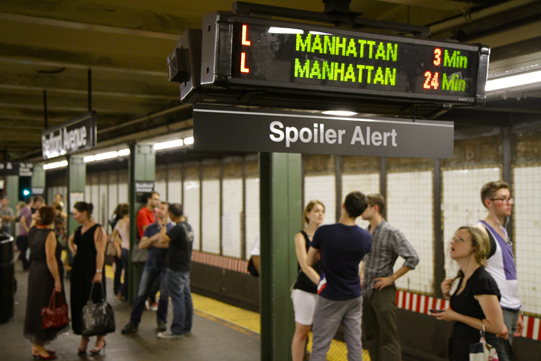 Jason and his partners have devised and built the Astoria Scum Bridge, Spoiler Alert , Pro Pants 2KX, Take A Seat, Pixelator (among many others) – creative interventions and objects in the city's public spaces.  In addition to his own projects he's been a part of Improv Everywhere as a contributor and creator on projects such as High Five Escalator and Tourist Lane.
Jasons work is a pleasant reminder that interaction in pubic spaces and physical making is still the most effective way to reach people. Our public spaces and streets are theater and they're our spaces; that with effort and creativity we can transform them for the better, temporarily and in some cases permanently.  And failing that, we can at least make our fellow citizens laugh.  Its the mission and driving force behind OpenPlans and the mission is expressed in an entirely different way than our software and journalism.
Keep up with what Jason has going on – it will probably pop up in your google reader or twitter feed sooner than later –  AdWars, a project to bring attention to the grey area that illegal advertising operates in in our public spaces and monetizes that space, and the Guerilla Works Progress Administrations.
Who speaks at OpenBag? Just about anyone who is engaged in transportation, mapping, diagramming, public space and urban issues and taking the creative steps to push their respective field forward and that shares in OpenPlans mission.  Or just anyone who is doing something we think is interesting – but we're all nerds here, so it tends to be tech, planning or transit related.